Best Practices
QR Codes for Accessibility: Uses for People with Disabilities
Imagine a world where there was a safe and inclusive space to roam, explore, and enjoy for all people, regardless of their health conditions or impairments. In our world, many people living with disabilities face the reality of imposed limitations, inaccessibility to certain spaces, and a lack of visibility in society.
Can tech shed some light on it? Sure it can! QR Code technology is showing some promising possibilities that can empower people with disabilities. Still, we have a long road ahead.

This article expounds on the innovative ways brands are making an impact — both in small and large ways — for people with hearing or visual impairments. We hope it can inspire more brands to create inclusive technology that we can all benefit from.
Are QR Codes accessible?
This question is best answered in two ways: Yes, but also not yet. From the standpoint of the modern-day smartphone with a built-in QR Code scanner, absolutely. But from the perspective of people with visual impairments and blindness, there are clear limitations.
Luckily, we find ourselves in a time of tech evolution, meaning there's either a QR Code solution or a form of innovative tech that can support people who face a variety of visibility challenges. And the answer lies in reimagining how to use technology from a different perspective.
At Techshare Pro in 2021, an annual conference that gathers some of the best leading experts working on digital accessibility and inclusion, one digital accessibility organization hosted a timely discussion on the limitations and possibilities of using QR Codes for accessibility. In one of the webinars, one organization's talk was centered around how technology could assist people living with low vision and blindness.
The candid conversation touched on important points on how to make QR Codes more accessible for the purposes of empowering and supporting people with visual impairments. The spirited talk ended on a positive note, keeping us hopeful about the future of tech in relation to people living with vision disabilities.
Digital inclusion in the future
More than 135 million people in the EU and Central Asia live with a disability. The challenge is designing the kind of tech that improves, rather than complicates, the lives of people who face cognitive, visual, hearing, or motor impairments, and to push for more digital inclusion where no one gets left behind.
On 28 June 2022, European policymakers passed legislation called the European Accessibility Act (EAA). The goal was to improve digital access for people with disabilities — pushing the envelope for companies to create products, services, and websites that are accessible to all. The law comes into full effect by June 2025.
As the EU paves the way forward, brands from other countries, especially those doing business in the EU, will have to up their game to comply with the new legislation. Ultimately, this is an opportunity to create a more inclusive world.
5 QR Code use cases that can empower people with disabilities
To actualize the vision of a more inclusive and accessible use of QR Code technology, many brands have invented ways beyond the barriers and boundaries of tech. Here are some inspiring examples of brands that have designed forward-thinking tech solutions and use QR Codes for accessibility.
#1 Sound maps for navigation
The co-founder and CEO of a Spain-based tech company had a dream of empowering people living with visual impairments and blindness. The establishment allied with researchers at the University of Alicante to work on creating signage that could support people using public transport who have no or limited vision.
The project took five years to complete, but they were able to design a mobile app and adapt existing tech so that people with visual disabilities could also use it. A QR Code in its original form can be difficult to spot for people with limited vision, so the look was changed from a tiny pixelated patterned square to a bigger, clearer color-blocking square.
The app acts as an eye detector to scan the QR Code. In response to scanning, the app sends audio feedback to the user by giving alerts, instructions, and guidance for commuting on the bus, train, or tram. The transit system is available in Murcia, Madrid, and Barcelona in Spain, and has now spread to the New York transit system, too.
This audio map is an atlas for the blind and visually impaired — and it's making a big difference in the lives of the many people who can now navigate public transport on their own.
Inspired? We love to witness businesses reinvent the use of QR Codes for public transport for the benefit of making transportation systems more accessible.
#2 Accessible museum experiences
Devoted exclusively to Asian art, a museum based in Seattle curates a unique and diverse collection of art for its visitors. The cherry on top? It's accessible to people living with a variety of impairments.
Inviting people with visual disabilities to explore art through the medium of sound, they host a monthly tour called "Art Beyond Sight" for partially sighted and blind people. But it's more than a tour — it's a gathering of community where friends meet over coffee and pastries to enjoy art together.
Beyond the monthly tours, the museum created an exquisite pre-recorded guided tour for people with visual impairments that can be accessed via a QR Code. When scanned, you're first greeted by the director and CEO of the museum.
These audio recordings bring art to the ears through detailed descriptions of the artwork, storytelling, and soundscapes. Stimulating the senses through sound, users hear art descriptions and commentary from artists, thought leaders, performers, and celebrities — an immersive sensory experience!
Exploring art sonically ignites the imagination of people with and without visual impairments. They offer an interactive, more in-depth, and engaging art experience for people on any part of the visual impairment spectrum.
Museums using QR Codes ought to consider how to enhance auditory experiences so that art becomes more accessible for people with visual disabilities. Want to hear a visual description of an art piece? Stop waiting, start listening!
Read more about QR Code art and QR Codes in museums on our website to see how you could incorporate them into your next display.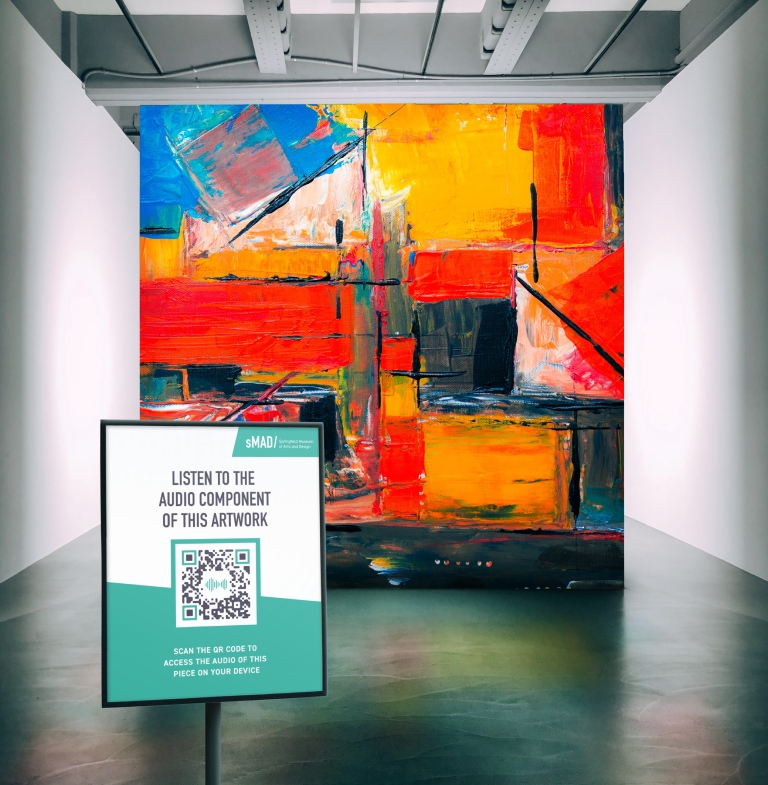 #3 Assistive technology supports students with hearing disabilities
Teachers at the Indiana School for the Deaf discovered an invaluable resource that assisted their students in reading stories in ASL (American Sign Language). We'll cut to the chase — we're talking about QR Codes.
This is how the teachers made the magic happen: They found 180 ASL stories on YouTube, generated them into a QR Code format, and then printed them out onto storytelling cards. As QR Code experts, we were able to detect what kind of code they used: a Video QR Code.
The remarkable part is that this tech solution didn't need to be adapted, it called for a thoughtful and innovative approach. The wheel didn't need to be reinvented, it needed a speck of creativity.
The teachers at the school compiled a comprehensive document with detailed instructions on how to use QR Codes to access ASL content — including how to scan QR Codes with digital devices.
This resource shows how using a QR Code for school materials can liven up a classroom and help students engage with ASL stories independently, whether at school or at home. Turning to tech can elevate the learning experience for students with hearing disabilities in a simple yet engaging way, as well as foster an environment of inclusive learning.
You'll find ASL stories like the well-known Dr. Seuss book One Fish, Two Fish, Red Fish, Blue Fish and Peggy Rathman's classic Good Night, Gorilla ready to be scanned and enjoyed.

Publishing houses could also widen the reading experience for people who have hearing or visual impairments. Open up fictional and nonfictional worlds by either creating a Video QR Code that links to an ASL video or creating an MP3 QR Code that leads to an audio description. Get more ideas on how to use a QR Code book solution to broaden your literary audience pool.
#4 Inclusive packaging empowers people with visual impairments
On World Sight Day in 2020, an all-time favorite cereal company launched a new packaging solution for people who have partial sight and blindness. How does this help people with visual disabilities? The new packaging has a special QR Code that, when scanned, gives a voiced overview of the product. It provides information like nutritional value and allergen info, both of which can be difficult to read for those with visual impairments.
This revolutionary idea to design a QR Code on packaging was created in partnership with the Royal National Institute of Blind People (RNIB) and an organization dedicated to empowering people with sight disabilities. The breakfast cereal company plans to change all of its cereal packaging so that people with visual disabilities can have more autonomy when choosing their cereal — opening up more accessibility on supermarket shelves.
Smart packaging, like the one mentioned above, sets the bar high for how brands can start rethinking package design. It shows us what's possible. Although we don't yet have the software to create a unique kind of Code that fully supports people with visual impairments, QR Code tech can still offer some assistance.

Creating QR Codes with highly contrasting colors, for example, can make the visual more visible to people with low vision. We hope that these examples serve as the catalyst to inspire more companies to rethink and reinvent package design.
#5 An item finder that helps people with vision impairment
Identifying simple objects around the house can be a daily chore for people who are blind or partially sighted, but one company's innovative product is here to save the day. The product consists of waterproof QR Codes and an app, which together can help identify items that visually impaired people have difficulty recognizing.
Here's a sneak peek of how it works:
Once you receive your booklet with 108 stickers, peel one off and place it on any item, like bottles, medication packaging, or even documents.
After a sticker is placed on an item, scan it using the app.
When the tag is recognized by the app, you are prompted to record an audio description of the item.
Finally, scan the tag to test out if it worked.
In short, tag it and scan it. Once the object is tagged, it becomes easier to identify items around the house, eliminating the incessant frustration of trying to recognize certain objects that maybe be difficult to spot or tell apart.
Aside from the regular sticker tags, the company has also created waterproof clothing labels that can be stitched onto clothing. With the help of a sighted person who can sew (no need to be a sewing aficionado), these labels can help to identify particular items, like a Christmas sweater you might want to wear for a special holiday occasion.
While a visually impaired person may need some assistance with the set-up, once they have their items tagged and recorded, they'll be able to scan items with the assistance of the app. More independence, more empowerment!

Our fictional brand Fashion Fox (pictured below) illustrates an example of how people who are color-blind can use QR Codes to identify the colors of their clothes. For more ideas on how to innovate your use of QR Codes for accessibility for visually impaired people, browse through our guides on putting a QR Code on clothing and QR Code stickers and labels for inspiration.
Final words
Although there's still a long road ahead for making technology more accessible to people living with a diverse set of disabilities, tech innovation is making an impact. If we keep accessibility at the forefront of product design, there's room for more growth. Reimagining how we utilize these technologies that improve the lives of all people is critical in creating a more inclusive world for everyone.