Best Practices
Designing a QR Code With a Call to Action that Converts
How can you create a call to action (CTA) that effectively converts customers? Where and how are CTAs used? When you use QR Codes in your marketing strategy, they come with an editable CTA directly in the frame for a clear, readable, and effective CTA display. Read on to find out more!
What does call to action mean?
A call to action, often referred to as a CTA, is a short phrase used to encourage a user to take a specific action related to marketing or sales content, such as "Sign Up", "Contact Us" or "Buy Now". This is where the term "action" comes into play because the basic goal of all marketing is to engage a user in a certain manner so that they either do something that boosts your brand (like a social media follow), download an ebook, or make a purchase. Overall, the point of a CTA is to instruct a reader on what they should do as a result of viewing your information, which in turn leads to better response and conversion rates.
Where is a call to action used?
All marketing materials should contain a call to action because it clarifies the purpose for a user to know how to respond to them. Examples of where CTAs should be used are:
On social media posts to read a particular link
On social media posts to comment on a post
On landing pages to make a particular purchase
On landing pages to sign up for email marketing
On blog articles to sign up for email marketing
On any website page to direct a user to a landing page
On print ads to visit a particular website or other digital content
In email marketing designs
…and much more.
The example above uses the CTA "Join Our Newsletter" to encourage newsletter sign-ups for a blog article to connect users with an email marketing funnel.
The components of a call to action that converts
When writing a good call to action, there are a few important points to keep in mind in order to receive the best response from a user as described below.
The rule of KISS
KISS stands for 'keep it short and simple.' This is absolutely true for any CTA anytime, anywhere. The best CTAs are five words maximum, but even better is only two or three words. Use easy to understand language, so there is no chance that the user misses the point. CTAs like "Start Now" or even just "Purchase" can be really effective, because there's zero confusion about the purpose of that marketing material. In the image above, the CTA is "Shop Now", so a user clearly understands the purpose of this page is to motivate them to buy these speakers.
Use an action verb
After keeping things short, the next important component of a good CTA is to use an action verb because this is what encourages the "action" that you'd like readers to take. Use the action verb in the imperative (command) form, like when you're telling someone what to do. In the context of CTAs, using assertive action verbs is what drives conversions. Common assertive action verbs used in CTAs include: shop, purchase, get, buy, sign up, start, go, etc.
Make them easy to find
Once you've written your short and active CTA, you also need to consider page formatting. If a reader struggles to find your CTA, then they won't be able to take the action that you'd like them to. Your design should also focus on your CTA, a bit like how art tends to draw a reader's attention to a particular part of a painting or image. Graphic design has the same purpose: keep the location of the CTA clear and easily conceivable. Make sure there is good color contrast so that the CTA button is clear. In the example above, the "Get The Ebook" CTA button is extremely clear, centered, and readable.
Display one at a time
One good CTA can be all you need for effective conversion rates. One too many and it may confuse the reader as they don't know which one to focus on. It's often the case that the best-designed landing pages have only one clear CTA that gets the user straight to the goal. In the example image above, it only takes a second to understand what action the reader should take due to the extremely clear "Get Started" CTA button.
QR Codes make creating and using a call to action easy
Now that you've learned how to create a killer call to action, you just need to connect it with your actual marketing strategy. We at QR Code Generator understand just how important CTAs are for marketing, so we've designed QR Codes to make CTA creation and display a breeze. Not to mention that our Dynamic QR Codes are customizable, editable, and even trackable!
Conveniently connect the user with the appropriate content
The major reason why QR Codes are used in marketing and advertising campaigns is that they connect users with particular content in a convenient manner. This can either be done digitally via an automatically generated short URL, or it can be done via print by scanning the QR Code with a smartphone. Both methods can be integrated into multi-channel campaigns as well. No matter how they are used, the content connected to QR Codes is optimized for all devices, scans, and loads quickly, and lessens the inconvenience for users to access particular links. Whether you'd like to promote videos, images, sounds, websites, social media links, or even event registration like in the poster example, this is all easily doable with QR Codes.
CTAs in a custom QR Code frame
When you design QR Codes with QR Code Generator, you have the option to use our custom frames or you can create your own. All QR Code frames include space to add your own unique CTA to match your marketing material. In the image screenshot, the CTA is "Scan me" but it can be updated to match whatever information you'd like to promote.
Clear CTAs with QR Code designs
Using QR Codes with CTAs keeps your design crisp and clear, similar to how CTA buttons work on landing pages. QR Codes are particularly useful in combination with print advertising because they act as the CTA buttons. In the example below, there is clear color contrast and the design structure highlights the QR Code so that a reader notices it. The CTA "follow us" in combination with an arrow clarifies the fact that the QR Code is there to encourage users to follow this brand on social media by connecting them with the profile links.
Make your QR Code stand out with contrasting colors
Ensure enough color contrast between the QR Code and the background
In order to get the most out of your custom QR Code design and highlight your CTA even more, make sure to always keep color contrast in mind. Color contrast focuses the reader's attention on the CTA but also ensures that the quiet zone on your QR Code is maintained so users don't have problems scanning your QR Code.
Track QR Code scans to improve the performance of your CTA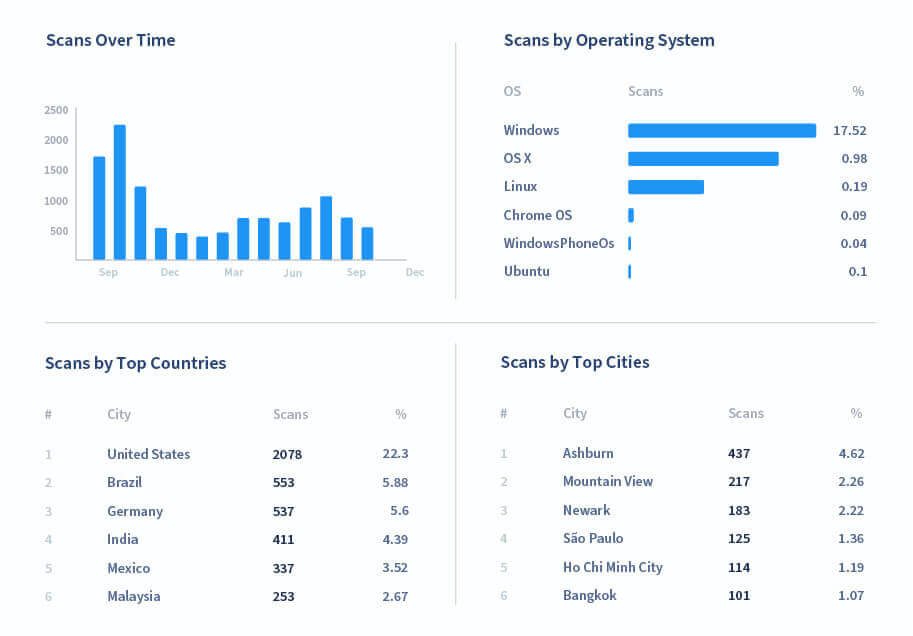 To understand the success of any marketing campaign, you need to track it based on marketing metrics – and QR Code campaigns are no exception. With QR Code Generator PRO, you can choose Dynamic QR Code solutions that display real-time tracking data such as location by city and country, time scanned, unique vs. total scans, and operating device used. You can use this information to optimize campaigns, in which CTA testing often plays a major role. To get the most out of your QR Codes, we absolutely recommend testing different CTAs over different time periods, locations, and on different designs to see which ones are the most effective.